El Kucho Restaurant
141 Wilson Ave, Brooklyn, NY 11237
Order now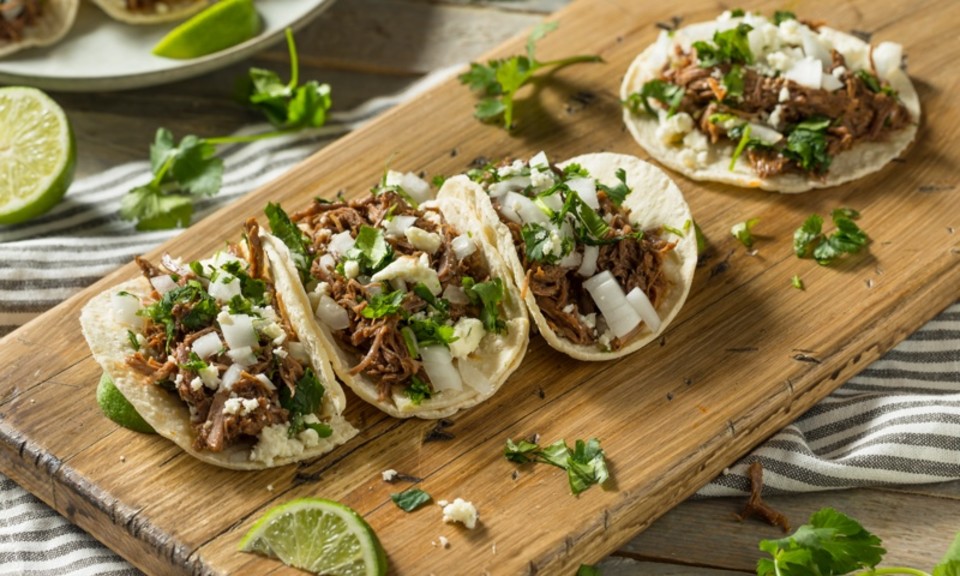 Siobhán
Worth every penny. Sure, it's a few more dollars but the quality of food far exceeds the majority of other places in the neighborhood. Especially if you're ordering vegetarian. Favourites:

Quesadilla: Fluffy house-made tortilla. Loaded with fresh vegetables.
Tostones-ala-Mexicana: Soooo good, omfg. The put tiny bits of jalapeno so warning for those sensitive to spice. The guacamole on top that they also serve offer as a side is excellent albeit a little heavy handed on the citrus.
Mushroom Tostada: Enormous portion. So big the two tostadas came in separate take away containers.
Joanna
I love El Kucho so much! They never disappoint whether its delivery or in the restaurant. I always order the shrimp fajitas for delivery and they are always perfectly cooked, generous portions, and mind-blowing up delicious. If you dine in, youll learn they also have a lovely staff. Support this local business because they are great.
Eden
Had never seen this place until today so we decided to try it, they had 41/2 stars on Yelp so I thought it was worth a try. SOOO good, my boyfriend got the Chorizo Enchiladas and I got the Chicken Quesadilla, we also got the Queso and chips; everything was amazing. Will definitely order again!
Andy
I think this is some of the cleanest, freshest and best tasting Mexican food I've ever had in Brooklyn. Delivered very quickly and packaged well. This is officially my new go to place.
Raymond
Some of the best Mexican in Bushwick! Owned by a very lovely family! Authentic and delicious! Great vegetarian options!! Everything is superb!
David
Absolutely outstanding. Not only the best Mexican I've had in Bushwick but the best, most interesting, most flavorful traditional Mexican I've had almost anywhere. Chicken enchiladas with mole sauce were almost eyes-rolling-in-back-of-head good. Rice & beans, and guacamole, which are basic-standard everywhere else, were clearly prepared with love, care and thoughtfulness (did I catch a hint of lemon in the rice? Mint in the guacamole? Yes I did). Not the cheapest, but totally well worth the price. High fives, guys.
EDWARD
I am addicted to this place! The food and presentation whether you order takeout or eat in the restaurant is always top notch. The owners are insanely friendly, polite, personable and hard working. They are truly apart of the neighborhood community and it's always a pleasure dining there or having them greet you as you pass by. The prices are a tad higher than the other Mexican restaurants in the area yet it's well worth the extra buck or two for quality food and service. Keep it up!
Erica
Ordered from El Kucho with high hopes (native Texan!) and was blown away! The Texas nachos with chili con queso was A+! And the chicken quesadilla was to die for! They couldn't make our dessert as the fryer was off for the night so they politely called us to apologize and gave us other options to sub it out. Really appreciated them going to the extra mile along with fast delivery and a very nice delivery man. 100% will order again.
Mak
So, this was the first time I ordered here I was impressed by the good reviews.

I ended up having to call when it looked like the delivery was late.

Good news- not only were they responsive and apologetic, they went above and beyond and threw in a little extra (the amazing Flan!!!) Im so impressed with this place! Yall made my night!

Turns out you were fashionably late
Milo
Had the wrong phone number set on here but El Kucho handled the situation very kindly. They didn't charge me extra and resent the order promptly! Not only that but they must have rewarmed it for me. The food was also excellent as always, so recommended!
About us
Today

Delivery: 12:00 PM - 10:00 PM

Takeout: 12:00 PM - 10:00 PM

Delivery

Monday:

12:00 PM - 10:00 PM

Tuesday:

12:00 PM - 10:00 PM

Wednesday:

12:00 PM - 10:00 PM

Thursday:

12:00 PM - 10:00 PM

Friday:

12:00 PM - 11:00 PM

Saturday:

12:00 PM - 11:00 PM

Sunday:

12:00 PM - 10:00 PM

Takeout

Monday:

12:00 PM - 10:00 PM

Tuesday:

12:00 PM - 10:00 PM

Wednesday:

12:00 PM - 10:00 PM

Thursday:

12:00 PM - 10:00 PM

Friday:

12:00 PM - 11:00 PM

Saturday:

12:00 PM - 11:00 PM

Sunday:

12:00 PM - 10:00 PM